The new European soccer season is almost upon us but some of the game's biggest names are facing the danger of being left out in the cold.
Paris Saint-Germain superstar Neymar, Real Madrid's Gareth Bale and Barcelona's Philippe Coutinho have spent the past few weeks flirting with moves away from their respective clubs to rejuvenate their careers.
To many, it seems absurd that such a talented trio should be struggling to attract the right suitor given their status.
The problem for a number of big name soccer stars is that there's seemingly nowhere for them to go. Whereas once upon a time the world's leading clubs would be falling over themselves to keep hold of star names, now they're struggling to offload them.
"When the French club's Qatari investors doubled the existing world transfer record when signing the Brazilian in 2017, this artificially inflated player values, particularly in the way a trickle-down effect took place.
"Ironically, Coutinho was an integral part of this effect. Such transfers have become unsustainable, clubs simply cannot afford such ostentatious spending. Indeed, we have seen many clubs strategically switch focus as a consequence, focusing on the development and promotion of youth rather than the purchase of big names.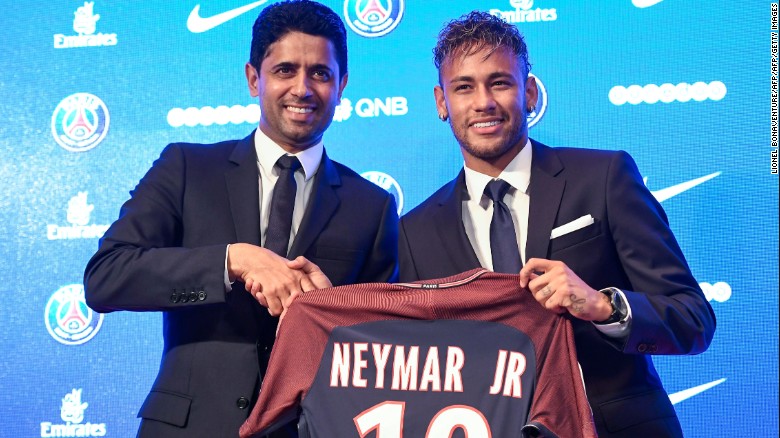 "Clearly, this counts against the likes of Neymar and Bale, as clubs simply don't have the resources to support their acquisition. However, in the case of Neymar, and Coutinho, both 27, and Bale, 30, there are age factors to consider too.
"Should a club buy them now, then they would likely be selling them in their thirties when sell-on values will be less than the sums paid for them."
Chadwick believes the reluctance to purchase older big name players is a sign of what he terms "economic realism."
He cites younger stars such as 20-year-old Kylian Mbappe — Neymar's PSG teammate — as a player who will not only have a higher sell-on value but will also generate a healthy stream of commercial revenue for clubs over the next five to 10 years.
"It may not seem immediately obvious, but Neymar somehow seems to have rapidly become an anachronism symbolizing geopolitically motivated spending that football is simply incapable of sustaining," Chadwick added.
"Real Madrid have made a rod for their own backs," Horncastle told CNN.
"He's got multiple years left on his contract, he earns very good money there and I think it's complicated for a club to find an alternative destination for him.
"Someone who can provide a fee, which would allow them to go back into the transfer market and buy again. Someone who could satisfy the player in terms of what he earns.
"It's a Rubik's Cube for them to solve. I think from Bale's point of view, for someone who has achieved everything he has in the game, having won multiple Champions League titles … what is his ambition?
"He has nothing left to prove. Does he feel the need to move elsewhere? I think beyond the relationship between him and the manager, there isn't any real reason to go."